Airplane Hangar Kits
Steel Buildings for Aviation Use
Heavy-Duty Airplane Hangar Building Kits
Protect your aircraft with Rok-Bilt Steel's Hangar Building Kits. It's no wonder why most engineers today are using metal hangars instead of wood. We can assist in completing a steel structure that will meet the needs of your wing span as well as your environment. Our commercial-grade steel framing is made of such high quality, it is guaranteed to meet local building codes for a lifetime of the structure!
Rok-Bilt Steel Hangar Building Systems
A Rok-Bilt general structure building provides the perfect solution for your aviation needs. Our professional representatives will work with you to customize the steel building of your choice – Everything from wall and roof types, panel colors, hangar door options, skylights, and other accessories. You can feel confident that your completed hangar design will be resilient and sturdy for decades to come. One of the best parts is, our "green" Rok-Bilt Steel buildings require little to no maintenance!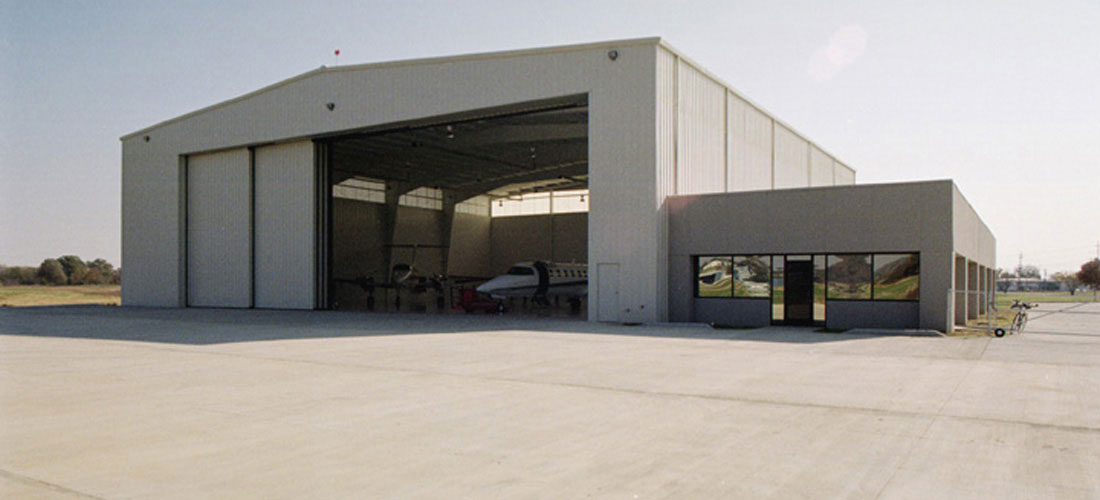 Fill out the form to request a complimentary quote from Rok-Bilt Steel. One of our professional representatives will be in contact shortly.
Here are a few steel aircraft structures we can help you design:
Glider Hangars

Helicopter Hangars

Private Plane Hangars

Classic Biplane Hangars

Crew Quarters

Airfield Offices

Maintenance Buildings

Shade Structures

And more!

The Advantages of Steel for Hangars

There are many reasons to choose steel over traditional building materials for the construction of your aircraft hangars.
Here are a few reasons you should consider a steel structure building built by Rok-Bilt Steel:
Strength & Durability – Steel delivers superior strength and durability to hold up against extreme weather conditions such as heavy rains, high heats, strong winds, lightning storms, termites, and overall aging.

Cost Savings – Our metal building kits can provide both short and long-term cost savings. Not to mention they deliver increased longevity with minimal maintenance.

Design Flexibility – Rok-Bilt Steel building kits offer design flexibility to accommodate your requirements. Enjoy the flexibility to customize the exterior and interior to create the ideal aircraft environment.

Environmentally Friendly – Compared to traditional building materials, our 99% recyclable steel is a highly sustainable option. A steel structure building also offers energy efficiency because their insulated panel systems and low profile roof options can significantly reduce energy costs.
Are you ready to receive your airplane hangar kit price?

Reach out to our Rok-Bilt Steel professionals today at

(337) 330-4863

or

email us

to request us to price out your next steel airplane hangar structure.